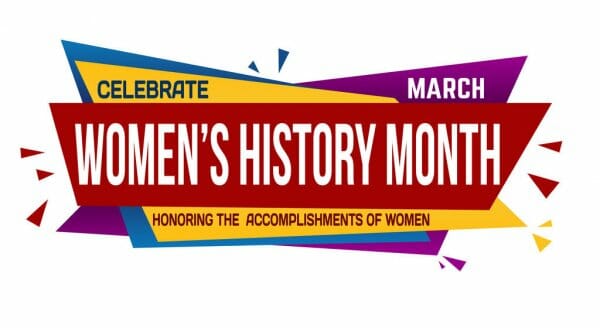 March is Woman's History Month, celebrating women and their contributions throughout the history of the United States. This formal recognition of women came about in 1980 as the result of an initiative by Representative Barbara Mikulski, from the House of Representatives, and Senator Orrin Hatch. Together they co-sponsored a Congressional Resolution for National Women's History Week honoring the achievements of American woman. President Jimmy Carter designated a week, March 2 -8, as National Woman's History week. By 1987, 14 states extended the celebration to a month-long period. Congress followed their lead and officially declared March the month celebration of women.
The role of woman in the United States has dramatically evolved. Women are leaders of large and small companies and woman serve at the highest levels of government. Iconic women such as Eleanor Roosevelt and Susan B. Anthony changed society in dramatic ways in terms of being role models for advocacy for people. Amelia Earhart, was a bestselling author, pilot and was instrumental in pioneering a role for woman in aviation.
Women of present-day lead some of the largest companies in America. Mary Barra, CEO, lead General Motors, lead the company efforts to make ventilators during Covid. Carol Tome, CEO of UPS, lead the company the Covid pandemic. UPS stoic shares doubled as of October 2020.
The military is one are that women have excelled. For example, in 1989, Captain Linda Bray led the 988th Military Police Company and was the first woman to command American troops in combat. In 2012 Army General Ann Dundwoody became the first woman to reach the rank of 4 star General. In 2015, Captain Kristen Griest and Lieutenant Shaye Haver were the first women to complete Army Ranger School. Woman now serve in many previously closed areas of the military. For example, combat roles such as infantry and certain aviation platform are now open to women.
Woman have made strides in politics. In 2005 Condoleezza Rice, became the first black woman to service as U.S. Secretary of State. In 2019 Nevada became the first state to have woman hold the majority of state legislative seats. A record number of women are serving in the 117th Congress and we now have a female Vice President.
The future is bright and encouraging for women. Opportunity exists in every faucet of the private and public sector. The information age of the internet and social media provide a platform for growth to include resources, education, training as well as a voice to be heard.
In the words of Helen Keller Alone we can do so little; together we can do so much".