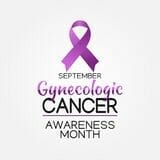 September is Gynecologic Cancer Awareness Month (GCAM), which was established by the Foundation for Women's Cancer (FWC) to bring awareness to cervical, ovarian, uterine/endometrial, vaginal, and vulvar cancers. Of these cancers, uterine cancer is the most common, with vaginal cancer being the least common. It is stated that every five minutes, someone will be diagnosed with one of these cancers and over 33,000 will die from a gynecologic cancer this year.
Gynecologic is represented in multiple ribbons, as listed below:
• Cervical Cancer Ribbon Color: Teal and white
• Ovarian Cancer Ribbon Color: Teal
• Uterine/endometrial Cancer Ribbon Color: Peach
• Vaginal Cancer Ribbon Color: Teal and white
• Vulvar Cancer Ribbon Color: No specific ribbon – very private nature of a disease expected to be diagnosed in about 6,000 women a year
• Gynecologic Cancer: Purple ribbon
The National Cervical Cancer Coalition (NCCC) states that there are different risk factors for each of these cancers including, in some cases, heredity. But many women who develop cancer without being considered high risk. It's important for women to be aware of the types of gynecologic cancer, symptoms, and potential warning signs to watch out for, and screening and prevention strategies.
"Each year in the United States, nearly 90,000 women are diagnosed with gynecological cancers, and over 29,000 dies from them, according to the Centers for Disease Control and Prevention (CDC)," Aspirus Health stated. "The CDC suggests that anyone who experiences warning signs that are abnormal for them for two weeks or longer should see their provider."
April 14-19, 2023 at the Orange County Convention Center in Orlando, Florida, doctors, researchers, and many more will come together at a conference to be able to talk about new treatments, research, and studies that they have gathered. This conference will help the patient in ways of treatment and understanding of gynecological cancer.
Common symptoms of gynecologic cancers include:
• Pelvic pain or pressure that does not go away, and you do not know why
• Feeling too full, too fast, even when you eat just a little
• Unusual vaginal bleeding, like having longer or heavier periods than what is normal for you, or bleeding after you have gone through menopause
• Unexplained weight loss or weight gain
• Bowel or bladder changes
Only you know what is normal for your body. If any of the above symptoms last longer than two weeks, see your doctor. Asking your medical professional about when the last time you had a pap smear, and if or when you should get another one.
Gynecological Cancer as like others have Causes and Risk Factors that associated with it, the following is a list that medical professionals have found are most common:
• HPV infection
• DES (diethylstilbestrol) exposure
• Smoking
• HIV/AIDS infection
Causes can be prevented by you, by not smoking and be protective during sex.
There are several ways for you to be diagnosed with gynecologic cancer, here are a few:
• Colposcopy exams
• Imaging testing
• Biopsies
Why is this month important? National Today answers this question:
A. To spread awareness
The month is essential in spreading awareness and informing women regarding the different cancers they need to look out for.
B. It's informative
The month provides solutions and also gives information that aids many women in tracing gynecologic cancers at an early stage in life.
C. It saves lives
Due to the awareness caused during the month, lives are saved as many women end up getting checked. They also keep a lookout for signs of cancer.
In observance of Gynecologic Cancer Awareness Month, Aspirus Health recently supplied information on gynecological cancers to educate women about the warning signs and the importance of early education. According to the American Association for Cancer Research, 16,900,000 gynecologic cancer survivors are living in the U.S.
American Association for Cancer Research (AACR) states that September is Childhood, Leukemia and Lymphoma, Ovarian, Prostate, Thyroid, Uterine Cancer Awareness month. Stay safe, be aware, and get checked.